The Kansai - Hokuriku Area Pass, issued by JR WEST, gives you unlimited rides including Shinkansen for 7 consecutive days. Come and explore the Kansai Area, Okayama, Kinosaki Onsen, Amanohashidate, Tottori, Kishi, Shirahama, Kii-Katsuura, and Hokuriku (Toyama, Ishikawa, Fukui) efficiently!
※You can use both non-reserved seats and reserved seats
Kansai-Hokuriku Area Pass的適用路線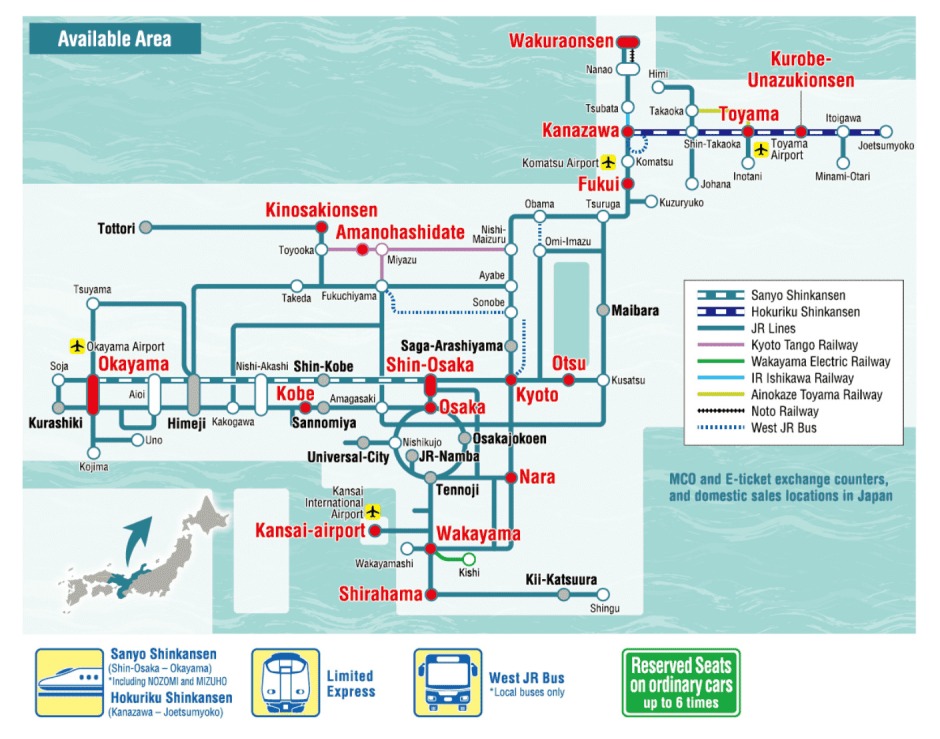 Valid Trains
The Kansai - Hokuriku Area Pass is valid for unlimited travel in the valid area on the map
Valid trains are below:

Non-reserved seats on SANYO SHINKANSEN (Shin-Osaka⇔Okayama)
The pass can be used for non-reserved seats on the 'Hello Kitty Shinkansen'.

Non-reserved seats on HOKURIKU SHINKANSEN (Kanazawa⇔Joetsu-Myoko)
Non-reserved seats on Express Trains 'HARUKA, THUNDERBIRD, KUROSHIO, KOUNOTORI, SUPER HAKUTO (Kyoto⇔Kamigori), etc.'
* A separate fare is required for traveling on SUPER HAKUTO (Kamigori⇔Tottori) and SUPER INABA (Kamigori⇔Tottori)

Special Rapid Services, Rapid Services, and Local trains on JR-WEST Conventional lines


JR West bus routes shown on the map.
* These trains below cannot be used

HOKURIKU SHINKANSEN (Joetsu-Myoko⇔Tokyo)
TOKAIDO SHINKANSEN (Shin-Osaka⇔Tokyo)
SANYO SHINKANSEN (Okayama⇔Hakata)

As a special exception

the pass can be used for the Himi, Johana, or Nanao lines only if the pass-holder does not alight from the IR Ishikawa Railway (Kanazawa⇔Tsubata) or the Ainokaze Toyama Railway (Takaoka⇔Toyama).
Can be used on the Ainokaze Toyama Railway Line (but cannot alight between Takaoka⇔Toyama)

If using the Ainokaze Liner rapid service on the Ainokaze Toyama Railway, a separate 'liner fare' is required.* For reserved seats, please purchase a Limited Express Reserved Seat Ticket from a JR-WEST Ticket Office or other location before boarding.
This ticket can only be used for reserved seats on certain trains. Please check the JR West website for details.
There is a reservation limit (6 times) for the amount of times you can use (or be issued) reserved seat tickets. If you wish to exceed the reservation limit, or if you do not reserve a reserved seat before boarding and want to use a reserved seat after boarding the train, you will need to purchase an additional non-discount Limited Express reserved seat ticket.
Notes
Please note that price, and reservation/exchange method are subject to change.
Adult: 12 years old and above (when issuing a voucher or purchasing a rail pass)
Child: 6-11 years old (when issuing a voucher or purchasing a rail pass)

Adult or child ticket holders can accompany up to 2 preschoolers (1-5 years old) for free.
A separate rail pass is required for the third child onward.
Free for children under 1 year old.

A rail pass is required for the following users.

Children using reserved seats (ordinary cars)
Children traveling alone
Eligibility
Available for purchase by non-Japanese passport holders.
*Not available for Japanese nationals (Including Japanese nationals resident overseas).

Those entering Japan as a 'Temporary Visitor'.
'Temporary Visitor' is a status of residence defined under Japanese immigration law.
How to Receive the Pass
You will receive a QR code after the purchase.

Please confirm on MYPAGE.
Please have your confirmation email ready to receive the rail pass.

The ticket can be received at the following JR WEST stations.

Toyama Station (Near Central Ticket Office), Shin-Takaoka Station, Kanazawa Station (Near Kenrokuen Exit), Komatsu Station, Fukui Station, Tsuruga Station, Kyoto Station (West Gate, Underground Gate, Central), Shin-Osaka Station (Near East Gate), Osaka Station (Near Central Ticket Office), Kobe Station, Shin-Kobe Station, Sannomiya Station (East Exit), Himeji Station (Near Central Ticket Office), Uji Station, Kyobashi Exit (North Exit), Tennoji Station (Central Gate), Shin-Imamiya Station, Nishikujō Station, Kansai Airport Station, Nara Station, JR Namba Station, Wakayama Station, Fukuchiyama Station, Okayama Station (Inside Ticket Office), Yonago Station, Tottori Station, Matsue Station, Hiroshima Station (next to Shinkansen Central Gate Exit), Shin-Yamaguchi Station (Ticket Office next to Shinkansen Gate), Shin-Shimonoseki Station (Shinkansen Exit), Shimonoseki Station, Ogura Station (Ticket Office next to Shinkansen Gate), Hakata Station (Ticket Office next to Shinkansen Gate)

You will need the QR code and passport to receive the rail pass.
Please scan the QR code and passport 1 person at a time.
Sales and Use
Rail passes can be purchased throughut the year.
Rail passes can be used for consecutive days.
Rail passes are valid from 12:00AM
Refunds after Receiving the Pass
Refunds: Can be made only where the rail pass is issued/exchanged.
Refund Amount: Sales price minus the deduction. (Fee: 10% of the sales prices, minimum of JPY 220)
If the rail pass has already been used/expired, it cannot be refunded.
Refunds cannot be made due to non-availability of service, delays, etc.
Refunds before Receiving the Pass
The order is valid for 3 months. You cannot keep this rail pass for more than 3 months.
If you have chosen to receive the rail pass later at the ticket machine, cancellation can be made after ordering.
If 100 days have passed after the order without receiving the rail pass, your order will be canceled and the payment will be refunded later.
Related Information
The rail pass is valid is for the pass holder only.
Please bring your passport for identification for JR station staff when using the rail pass.
Lost/stolen rail passes cannot be re-issued.
Rail pass usage rules are stipulated by JR WEST Conditions of Carriage and Japanese Law.
Rules regarding the use of vouchers are stated in the issuer's rules and contracts.
If discrepances arise about Carriage Conditions between the foreign language and Japanese versions, Japanese shall take precedence.