The Hakodateyama Ski Resort is famous as being a ski resort that's close to Kansai International Airport. Easily accessible from metropolitan areas, it's known as a slope with fully-realized services that day trip skiers love. Most of the courses are geared towards beginners, perfect for family and friends to enjoy together! Allow us to introduce the charms of the compact yet refined Hakodateyama Ski Resort.
Accessible in a little under 2 hours from Kansai International Airport!

The best part of Hakodateyama Ski Resort is that it's only around an hour away from the major metropolitan areas in Kansai - overwhelmingly good access!
You'll arrive in around 1 hour from the cities of Kyoto and Osaka, and about 2 hours 15 minutes from Kansai International Airport. It boasts top-class convenience as a ski resort - you can show up at empty-handed from the airport.
Being a ski resort close to metropolitan areas, you'll also love its well-organized traffic network. Train transfers, and access from various expressways is also very smooth.
An abundance of day trip-oriented services for a hassle-free experience

In addition to the great access, tourists will also love the resort's great rental plan.
There are many people who, when visiting from a nearby town for some sightseeing, drop by the slope together with a trip to Mt. Hakodate.
There's the basic set of skis and boots, and full sets that include accessories such as gloves, goggles, caps, and more. They're available at a reasonable price, so beginners can enjoy some casual skiing as well.
One of Hakodateyama Ski Resort's biggest draw-points is the ability to drop by empty-handed.
A line-up of courses easy for beginners!

There's a full line-up of 10 types of individual courses on the Mt. Hakodate slope. There aren't any difficult courses for the advanced to sink their teeth into, but there's a full assortment of courses that beginners can enjoy with peace of mind.
It's a compact ski resort, but its ease of movement, the ease of skiing on the courses, and its wonderful view put it among the best. This resort has put a lot of effort into its ease of use and level of convenience, so those coming for a day trip ski can fully enjoy themselves.
The most popular course among beginner skiers is the wide No. 3 Slope. It has a gentle incline with an average of 7 degrees, so we recommend this in particular to those who want to practice skiing basics.
It also has an excellent reputation for its wonderfully penetrating view, and on sunny days it's particularly a sight to behold. The clear weather rate is very high, making for a course where you can have a very enjoyable ski experience.
The No. 4 Slope A Course, surrounded by trees, is also very popular. With a sliding distance of 635 meters, this long run course is among the top class out of all the Mt. Hakodate slopes.
A thrilling ski experience that lets you ski through a forest. You can't experience this anywhere else in the Kansai region. The course was renovated in 2018, making for an even more pleasant skiing experience.
Look out over the beautiful Lake Biwa scenery in this excellent, charming location!

The slope at Hakodateyama Ski Resort is located in a wonderful location that gives an excellent scenic view of Lake Biwa, the largest lake in Japan.
The weather doesn't get rough often, making for a high clear weather rate. On a clear day you can see to the depths of Lake Biwa, a truly magnificent view.
At the course near the summit, you can take a commemorative picture with Lake Biwa in the background, making this a popular photography spot among international tourists. Aside from the summit, there are plenty of other great scenic spots for photography, so why not try for the best photo that commemorates your trip?
Even if you search all over Japan, you'll be hard-pressed to find a ski resort that's just an hour from the metropolitan area, and offers such an excellent scenic view as this!
For those who want to take a beautiful slope picture as a memento of their Japan trip, this will most definitely be your greatest ski experience.
The snowshoe tour unique to Lake Biwa

For those who want to enjoy the Lake Biwa scenery a bit longer, we recommend taking part in the Snowshoe Experience Tour, where you'll wear special shoes and trek up the snowy mountain.
It's a thrilling activity where you'll explore the snowy roads near Lake Biwa. As you'll be walking a 3,500-meter long course behind the ski resort mountain, you can enjoy trekking while constantly taking in the gorgeous scenery.
It's not a difficult trekking course, so even beginners will be able to complete the two-and-a-half-hour journey.
Reservations are required for the experience tour, but you can join as an individual or as a group. Your specially-assigned instructor will give you thorough support, so even if you are experiencing snow for the first time, you can take on the trek with peace of mind.
You should definitely try out this unusual snow activity for yourself, where you have a unique chance to become one with nature itself.
We recommend Kids World for your kids' snow debut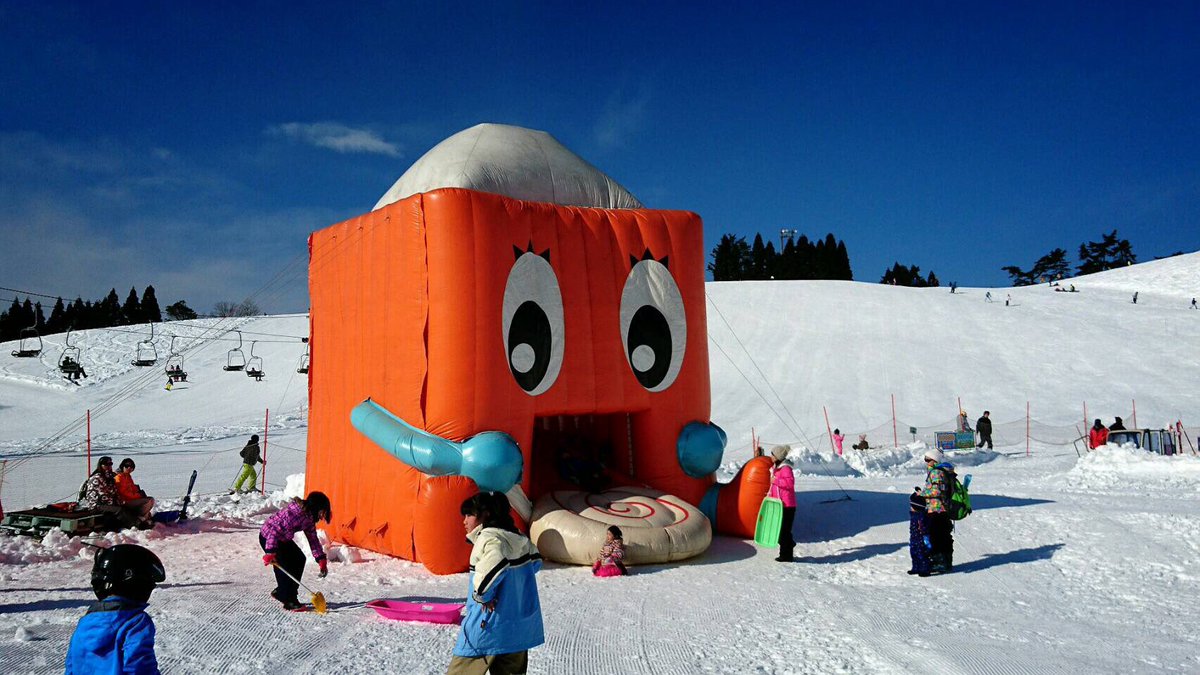 Reference: https://twitter.com/happy_hakochan/media
Kids World, where the whole family can enjoy the snow, is a snow activity space built around the motto of "a place where you can spend some safe, pleasant hours whiling away the time".
There are plenty of fun activities you can enjoy without ever having to put a pair of skis on - such as the Snow Escalator where small children who can't ride the lift can enjoy an easy mountain ascent; the Hako-chan Slider where you can play in the snow safely regardless of its condition, and Snow Rafting where 8 people can ride on a boat and slide down the slope.

Hako-chan is a very popular mascot character with children that's featured on most of the items found within the Kids Park! Hako-chan appears on the slopes during snow festivals and New Year's events, so if you're lucky, you may be able to get a picture together.
Kids World, packed with its various charms, is a kids park where you can enjoy the snow without having to ski. We definitely recommend paying a visit when you want to enjoy playing in the snow with the family.
Take it easy in the large-scale food court cabin #2
When you get tired from skiing, we recommend taking a break in Cabin #2 which is close to the No. 2 Slope! The Hakodateyama Ski Resort has plenty of rest areas, but among them Cabin #2 boasts the largest total area, with a total of 264 seats.
From sauced pork cutlet rice bowls, to roast beef rice bowls, curry rice, and udon noodles with fried toppings, you can enjoy a wide variety of dishes.
They also offer lighter meals like takoyaki and meat buns that use Omi beef, a local specialty. Enjoy heart-filling meals while warming up in a heated interior space.
An urban-styled ski resort specialized for ease of use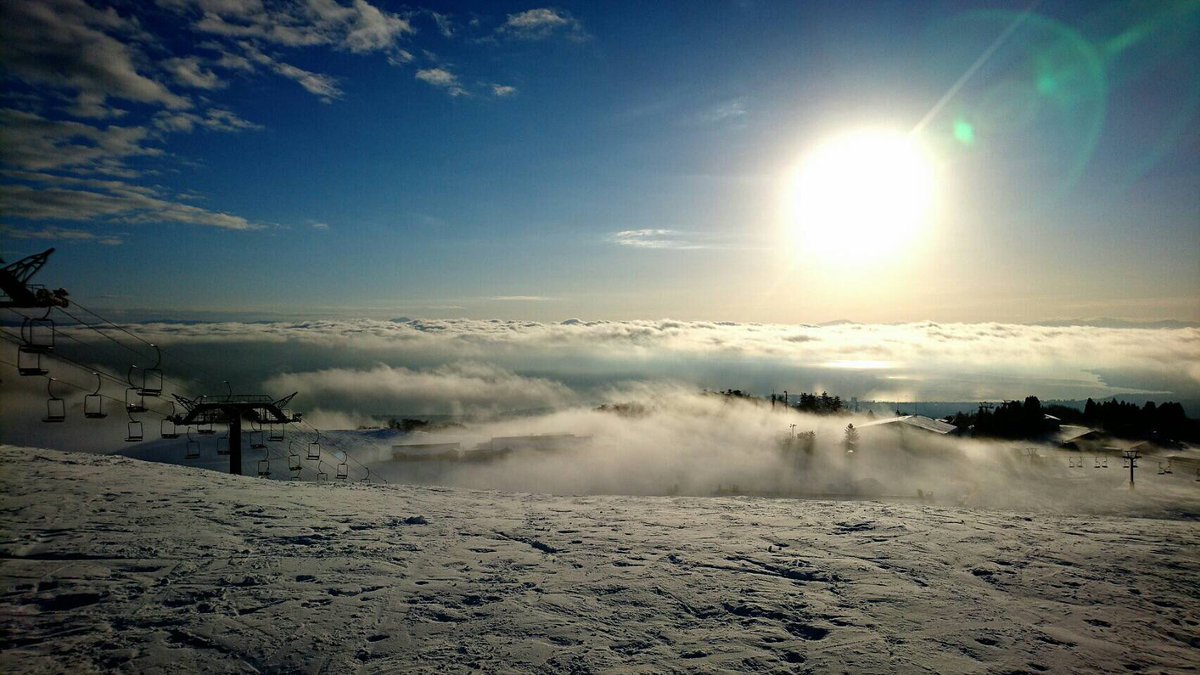 Reference:https://twitter.com/happy_hakochan/status/815127413013127168
The Hakodateyama Ski Resort boasts top-quality access within the Kansai area.
With its transport convenience, ease of rentals, and fulfilling beginners courses, it's got everything that a day trip ski resort needs.
With ingenious ways to enjoy the snow even for a short period of time, its a great place to drop by during a gap in your trip. Why not make some fun snow memories at the Hakodateyama Ski Resort this season?
Pricing information and schedule may not be up to date and are subject to change without notice. Please check before your trip.